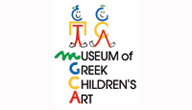 Museum of Greek Children's Art
The Museum of Greek Children's Art, is a pioneering Museum, one of the very few worldwide that exhibits art created by children.
It is addressed to children and adults, parents, teachers, artists and scientists as all visitors can see drawings and three-dimensional artworks created by children from 4 to 14 years old.
Following its original vision "learning through Art" the Museum of Greek Children's Art runs for 22 years.

Every one of its exhibitions offers innovative and artistic presentation concepts allowing a multidimensional communication with children's art.
Current exhibitions aim to familiarize children with their rights as they are mentioned at the Convention on Children's Rights and raise awareness so that children "of all ages" assert their own identity and accept the diversity of the Other.
Integrating Art in the educational process, the Museum educational department studies, designs and realizes educational programmes for pre-school children and primary school pupils aiming to render the visit to the Museum a creative experience.
Within the framework of its social contribution, the Museum realizes art activities for people with disabilities as well as socially vulnerable groups.

At the interactive section of every exhibition, bilingual activities offer in playful way to visitors of all ages, a further acquaintance with the artworks on display.
The Museum's collection include 8.000 artworks depicting Greek history, tradition, everyday life and culture in the most disarming and eloquent manner.
The aim of the Museum of Greek Children's Art is to contribute to the development of a "cultural society" providing tomorrow's citizens with knowledge using children's art as a creative approach.
Museum of Greek Children's Art
learning through Art
9 Kodrou str., Plaka, 10558, Athens
F: 210 3313734 / Τ: 210 3312621, 210 3312750
Email: contact@childrensartmuseum.gr
https://www.youtube.com/user/childrensartmuseumgr
https://www.facebook.com/MouseioEllinikisPaidikisTechnis